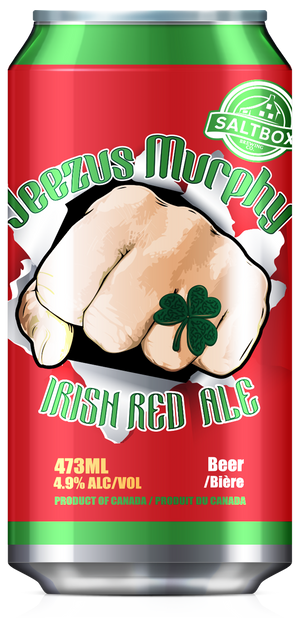 Jeezus Murphy Irish Red 473ml
The first immigrants to settle the Aspotogan Peninsula in Lunenburg County were Newfoundland Irish, who were Catholics.  They were a hearty lot with family names like Murphy, Keating and Carroll.    During the time of prohibition one of their descendants was a man who traveled across Canada carrying bootleg Irish whiskey in a horse drawn cart. He presented himself to lawmakers as Jesus Murphy, peddling bibles door to door. Little did they know that Murphy whiskey was hidden under the bibles.   Our Jeezus Murphy Irish Red resembles the vibrant caramel color of that popular drink and celebrates the creativeness of those early settlers.
This wonderfully copper colored beauty, flattens you with a punch of caramel, finishing with a malt forward hint of fruity sweetness.     4.8% ABV.
​PLEASE NOTE: You must be 19 years or older to order and receive shipment of this item.