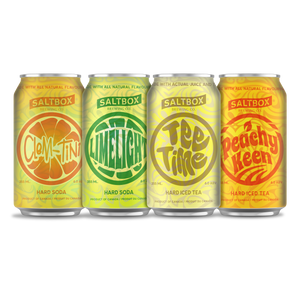 Hard Iced Tea Variety Pack - 4 Pack
Indulge in the Saltbox Four Pack of Vodka Sodas, a delightful mix featuring the zesty zest of Limelight, the refreshing notes of Tee Time, the citrusy kick of Clem-tini, and the sweet embrace of Peachy Keen. Elevate your sipping experience with this diverse collection of vibrant, flavorful, and ready-to-enjoy beverages.
Cheers to variety!
6.0 ABV
​PLEASE NOTE: You must be 19 years or older to order and receive shipment of this item.