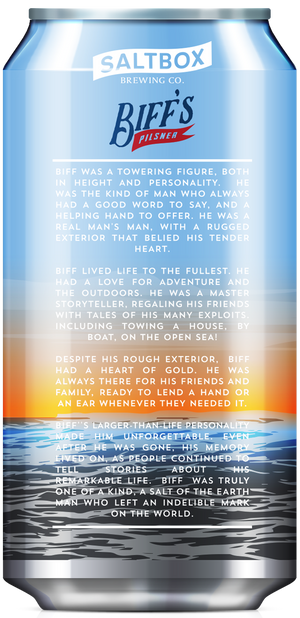 Biff was a towering figure, both in height and personality.  He was the kind of man who always had a good word to say, and a helping hand to offer. He was a real man's man, with a rugged exterior that belied his tender heart.
Biff lived life to the fullest. He had a love for adventure and the outdoors. He was a master storyteller, regaling his friends with tales of his many exploits.
Despite his rough exterior,  Biff  had a heart of gold. He was always there for his friends and family, ready to lend a hand or an ear whenever they needed it. 
Biff''s larger-than-life personality made him unforgettable. Even after he was gone, his memory lived on, as people continued to tell stories about his remarkable life.  Biff  was truly one of a kind, a salt of the earth man who left an indelible mark on the world.
A pale lager with a crisp, refreshing taste that's lightly hopped.    5.2% ABV
​PLEASE NOTE: You must be 19 years or older to order and receive shipment of this item.